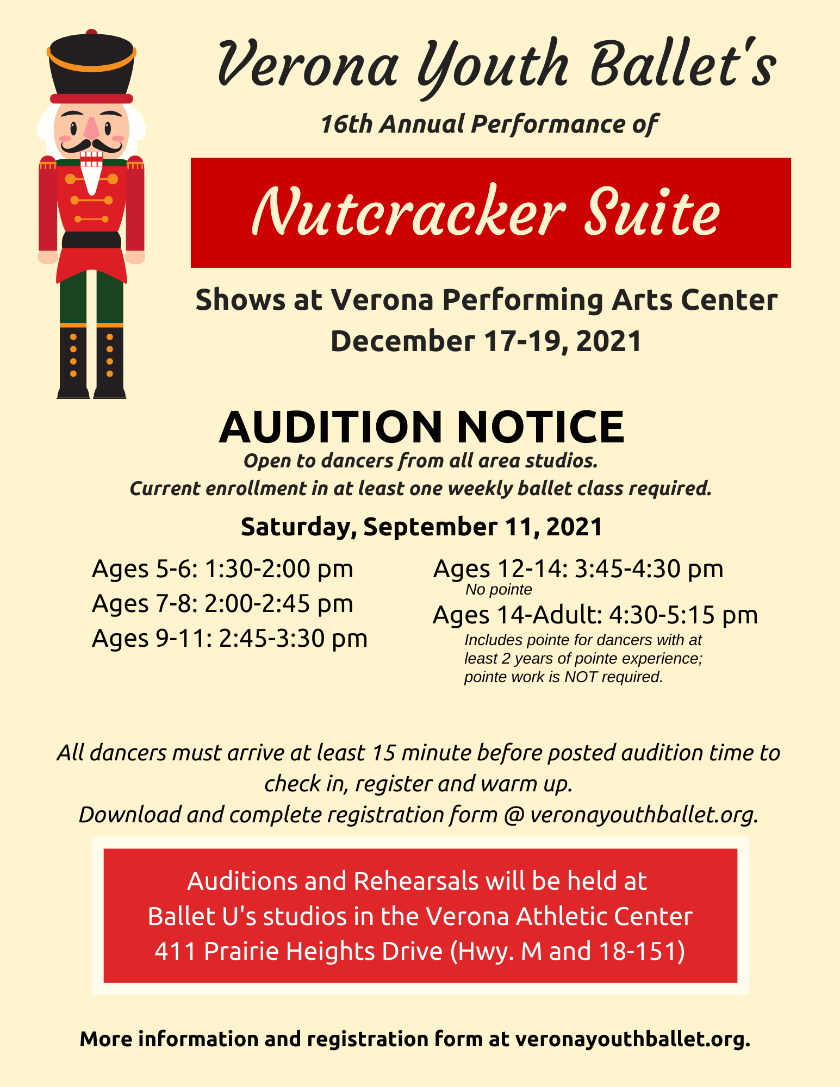 The audition date, September 11, for Verona Youth Ballet's 2021 Nutcracker performance is just a few weeks away. We hope that you will join us for this educational and fun experience.
Participation Requirements:
We are excited that you/your child would like to participate in this year's production of the VYB Nutcracker. Please make sure that you're available for all the dates listed below.
Print and complete the registration form and bring it together with your
participation payment (cash or check) to the audition on September 11.
2021 Participation Fees: $100 (Ages 9+), or $75 (Ages 4-8) - Adult Prologue Dancers $60
Fees help cover rehearsal time, teaching staff, choreographers, costume rental.
Audition will take place at Ballet U, 411 Prairie Heights Drive, Verona.
Audition Times
Ages 5-6: 1:30-2:00 pm
Ages 7-8: 2:00-2:45 pm
Ages 9-11: 2:45-3:30 pm
Ages 12-14: 3:45-4:30 pm
No pointe
Ages 14-Adult: 4:30-5:15 pm
Includes pointe for dancers with at least 2 years of pointe experience; pointe work is NOT required.
No Audition necessary for adults wishing to participate in the Adult Prologue Dance. Contact us for more information about this opportunity for dancers in Ballet U's Adult Ballet classes.
All dancers MUST be enrolled in at least one weekly ballet class and be available for ALL of the following:
Weekly rehearsals, Saturdays for about 45-60 minutes between 1:00 and 5:00 pm at Ballet U.
Sept. 18-Nov. 20. (approx. ages 9+) or Oct. 9–Nov. 20 (approx. ages 5-8). No rehearsal November 27.
Full cast rehearsal at Ballet U, Saturday, December 4, 2-5 pm (required)
Full cast rehearsal at Ballet U, December 11, 2-5 pm (required)
Tech rehearsal at the MSPAC ( Badger Ridge Middle School), Thursday, December 16, 5-9 pm (required)
Dress Rehearsal at MSPAC, Friday, December 17, 5-9 pm (required)
Walk thru at MSPAC, Saturday, December 18, 11-1 pm (required)
Performances at MSPAC, Saturday, December 18, 1:30 and 4:00 pm
Possible additional performances this year:
Friday, Dec. 17 - School Performance in the morning (time TBD)
Sunday, December 19 - 2 pm Performance (depends on number of participants)
*Only one excused absence from regular rehearsals is allowed. For illness/emergency, call or text 608-620-5598. If absence is preplanned, then notify VYB via email to [email protected] in advance of the date of absence, dancer's name and reason for absence. No exceptions, please.

Dancers are expected to arrive 15 minutes early for every rehearsal to dress and warm up.
Wear ballet class uniform with hair up and back from face. Face masks are required for the time being.

The audition registration form is available for download here. Please print, complete and bring it to your audition.
Special considerations due to the ongoing Covid-19 pandemic
Everyone participating will be wearing masks for the time being, regardless of vaccination status. This requirement could change over the next few months. However, if the VASD still has a mask mandate in December both performers and audience will need to wear masks.
In order to keep help us plan and prevent overcrowding we request that auditioners complete the short pre-registration form below. This is in addition to the more detailed paper registration form that every dancer will need to bring to the audition.
What to expect at VYB's Nutcracker audition
Dancers auditioning for Verona Youth Ballet's Nutcracker are expected to be currently studying ballet so that they will be familiar with the steps used in this classical ballet's choreography. Some need-based partial scholarships for classes at Ballet U are available by application.
Dancers participating in VYB's Nutcracker audition will be viewed by age groups and placed according to the roles/costumes available. Choreographers will show a few steps from the appropriate dance(s) for each age group, and then have dancers show the steps in small groups. A panel of professionally experienced dancers/teachers will rate the dancers on technical, musical and artistic sensibilities. Every effort is made to place ALL auditioners in a role suited to their age and abilities.
No prepared work is needed for the audition, but a professional appearance (ballet class attire, hair neatly pulled back), attention to detail, pointed feet, good posture, an interested smile and focused behavior will enhance the experience and the dancer's placement.
Parents often ask "Is my child old enough to dance in the Nutcracker?"
Dancers must be at least 5 years old (by Sept. 1) and need to display a certain amount of maturity and independence. Parents of very young dancers should make sure that they and their child will be OK with regular Saturday rehearsals, that they are able to follow instructions and listen well. Participating in our Nutcracker is lots of fun and very rewarding but dancers and families need to understand that they will be committing a considerable amount of family time (parents of young children often end up back stage as volunteers).