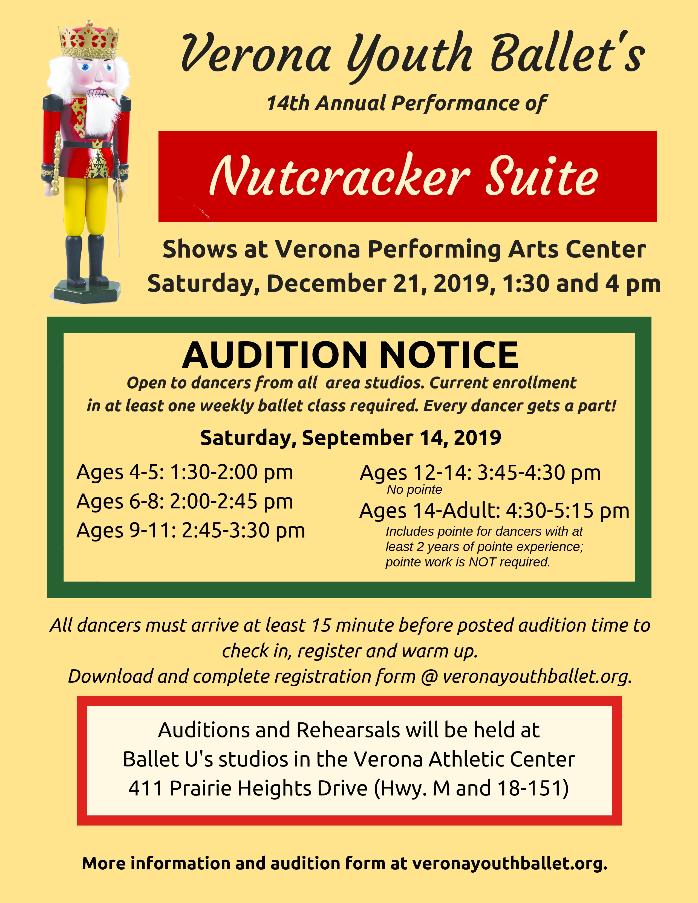 The audition date, September 14, for Verona Youth Ballet's 2019 Nutcracker performance is just a few weeks away. We hope that you will join us for this educational and fun experience.
Participation Requirements:
All dancers MUST be enrolled in at least one weekly ballet class (at any area studio) and be available for ALL of the following:
Weekly rehearsals, Saturdays for about 45-60 minutes between 1:00 and 6:00 pm at Ballet U.
Sept. 21-Nov. 23. (Ages 9+) or Oct. 12–Nov. 23 (Ages 4-8). No rehearsal November 30.
Full cast rehearsal at the VAC, Saturday, December 7, 2-6 pm (required)
Full cast rehearsal at the VAC, December 14, 2-6 pm (required)
Tech rehearsal at the VPAC (Verona High School Theatre), Thursday, December 19, 5-9 pm (required)
Dress Rehearsal at VPAC, Friday, December 20, 5-9 pm (required)
Walk thru at VAPC, Saturday, December 21, 11-1 pm (required)
Performances at VPAC, Saturday, December 21, 1:30 and 4:00 pm


The Verona Youth Ballet is primarily financed by its participating dance families with some limited Verona area business contributions. Box office receipts cover less than half of the Nutcracker's expenses (costuming, theatre and rehearsal space rental, instructors/choreographers, advertising, tech crew, printing, photography/videotaping, etc.) so thank you for your support through your participation fees, cash donations, ticket purchases and volunteerism.

2019 Participation Fees:
Dancers ages 9+ $100
Dancers ages 4-8, $75 (must be 4 by Sept. 1, 2019)

Most Nutcracker rehearsals will be held on Saturday afternoons.

The audition registration form is available for download here. Please print, complete and bring it to your audition.
What to expect at VYB's Nutcracker audition
Dancers auditioning for Verona Youth Ballet's Nutcracker are expected to be currently studying ballet so that they will be familiar with the steps used in this classical ballet's choreography. Some need-based partial scholarships for classes at Ballet U are available by application.
Dancers participating in VYB's Nutcracker audition will be viewed by age groups and placed according to the roles/costumes available. Choreographers will show a few steps from the appropriate dance(s) for each age group, and then have dancers show the steps in small groups. A panel of professionally experienced dancers/teachers will rate the dancers on technical, musical and artistic sensibilities. Every effort is made to place ALL auditioners in a role suited to their age and abilities.
No prepared work is needed for the audition, but a professional appearance (ballet class attire, hair neatly pulled back), attention to detail, pointed feet, good posture, an interested smile and focused behavior will enhance the experience and the dancer's placement.
Parents often ask "Is my child old enough to dance in the Nutcracker?"
Dancers must be at least 4 years old (by Sept. 1) and need to display a certain amount of maturity and independence. Parents of very young dancers should make sure that they and their child will be OK with regular Saturday rehearsals, that they are able to follow instructions and listen well. Participating in our Nutcracker is lots of fun and very rewarding but dancers and families need to understand that they will be committing a considerable amount of family time (parents of young children often end up back stage as volunteers).